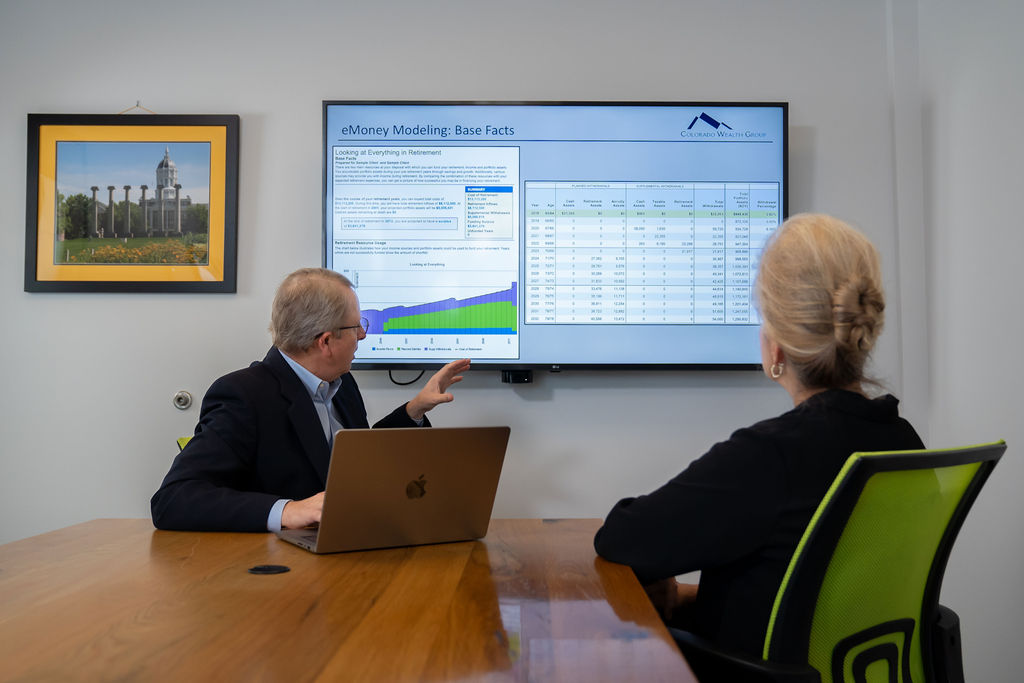 Financial Planning:
Planning for retirement is a major financial investment for most people. Whether you're still working or you've already entered retirement, financial planning is key. Having a retirement planning professional on your side can make a significant difference. The retirement planning specialists at Colorado Wealth Group will get to know you, your financial situation, and your long-term goals. Then, we will help you devise and implement a customized plan for your retirement in order to maximize the probability of success: to see more about how we create a Financial Plan, be sure to visit our How We Work page.
The Phases of Retirement Financial Planning
Personal retirement planning isn't something you complete in just one session. You also shouldn't think about it as something you can "set and forget". Rather, successful retirement planning is something you do in phases. Everyone's journey is different, but most people find themselves in one of three stages.
Wealth-Building
Ideally, you'll start planning for your retirement long before you intend to retire. During this phase, you should focus on developing good financial habits and accumulating wealth as you work. You'll want to consider both your savings and your investments and how they will support the retirement you envision. If you're unsure about how to go about this, we can provide the retirement planning advice you need so you can start accumulating wisely today
Transitioning
As you get closer to the end of your career, your focus will start to shift from saving plans to spending plans. During this stage, you may need to change how your assets are allocated. You should also consider whether you have any outstanding debts that could prevent you from retiring as planned. It's a good idea to discuss any concerns you have about your retirement with your retirement planning advisor..
Managing Risk and Distributing Your Assets
Once you've retired, you need to wisely manage your wealth. With the help of a retirement management company, you should be able to regularly review your retirement plan to determine if everything is going according to plan or if you need to pivot your strategy. You'll need to look at whether you have enough money for the future if your estate could be facing heavy taxation, and if you need long-term care insurance or other protections against risks.
Contact Colorado Wealth Group Today
Regardless of which of the three stages you are in, our retirement planning specialists can help you make smart decisions. Contact us today to get started.
Wealth Management Solutions Built For Your Future
We offer a wide range of wealth management and financial planning services for individuals, families, and businesses. Click below to learn more about how we may able to help you.
Not sure which option is right for you? Answer a few questions, and we will get you in contact with the right advisor.
Reserve a Consult